EXCLUSIVE VENUE FOR EXHIBITIONS AND PRODUCT LAUNCHES
The Vimonisha Private Collection - Press Releases Archive
Press Release for Vimonisha Mega Souk
Date : 1st Nov 2009,
Publications : Ritz Magazine, Just for Woman, 044 and host of other magazines.
Press Release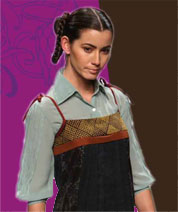 As a part of the 20th year celebrations of Vimonisha, it hosts a 35 designers show on the 11th and 12th of December 2009.With many high end designers of ladies apparel, jewellery , accessories and home life style products, the exhibition cum sale promises to be an opulent extravaganza of the latest trends and fashionwear.

Some Lakme Fashion Week designers like the trendy Myoho from Mumbai a seamless confluence of inspiration, ethnicity and feminity.Expertly cut and designed silhouettes and flowing garments that come alive when worn. Dresses, suits and tunics in the new colours and fabrics of the season.

FADE, Mumbai, is a fashion and design house that was created to capture the essence of modern India. FADE creations are refined, timeless and elegant, that marry contemporary and traditional techniques and aesthetics.Fade uses an eclectic color palette using the trends of the season.The collection on show are of the Fall/ Winter and the festive collection. The colors vary from pastel pinks, turquoise and yellows g and the deeper blues and greens. For the festive season, they have used a variation of warm colors of reds and oranges to fuschia to bring out the mood of festivity.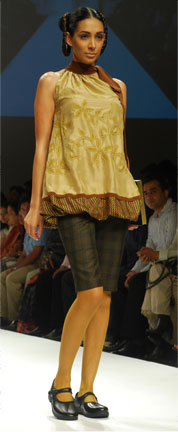 Kasbahh Creations through its work aims to help the women from Kashmir. Most women there know the craft of embroidery. Kashmiri Embroidery, locally known as Kashida has surely been inspired by the beautiful natural surroundings of Kashmir. The significance of this craft is that it is created using one or two embroidery stitch styles. Wool, cotton, crepes, and georgettes are mostly used as a base cloth. Many a times these pieces of art take months to be completed, and look absolutely stunning when worn! When buying a piece of this beautiful handcrafted fabric you are doing your bit too, for the underprivileged.

Devyani comprises of an all-rounded, ready-to-wear range, from delicately embroidered sarees and dresses to chic coats and skirts and tunics. Layers of silk organiza, silk chiffon, silk tulle and silk satin transformed into delicate cocktail hour options. Hand-encrusted miniature mirrors whipped around twirls of chiffon. Carefully constructed jackets trimmed with silk brocade. Flowing, crystal-beaded pants. Orientalism inspired detailed hand-embroidery in French chiffon sarees. In ebony, ivory, gold, buttercream, crimson, lemongrass, pistachio, fuschia, saffron, and spectrums of royal blue.

Sole-affair, Artie Style, Kinkhab, from Mumbai with styled kurtis and suits in simple silhouettes, which go by the philosophy of less is more. The stylecode is ethnic, yet contemporary in design.. The best materials available in the market is used for embellishment of intricate designs on the outfits.
Bandhej from Kolkata with traditional tie and dye sarees and suits for the wedding season, embellished with exquisitely crafted hand embroideries.

Sheetal/Aruna from Bangalore with contemporary styled tunics and suits in a new prt wear range for the upcoming season.Vishal Kapur from Delhi with a breathtaking range of dupattas teamed with matching suits to choose from.Maple,Vima, Mamta and Toxic are back to Chennai with new ranges for the season.

Precious and semi precious jewelllery by Kamadhenu, Shillpa Puri, SRG studio,Damini, TAD, and shoes and accessories by Adaa . Whats more exciting vouchers and prizes to be won from Oryza spa and Bounce style lounge at the venue.